Click the logo to apply for coverage
---
Travel Insurance Information for cruisers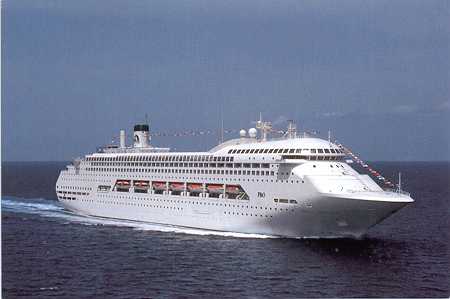 What are Travel Insurance and Travel Assistance Services?
The purpose of travel insurance is to provide protection for travelers against the unique risks associated with travel, before trip departure and during the trip itself. Many of these risks, such as trip interruption, are not generally covered by any other insurance available to travelers.
Although travelers probably don't want to think about it, the plain fact is that travel involves some unique risks. In fact, travelers would be surprised by some of the things that could happen. Ask yourself the following questions:
Without travel insurance, could I miss my trip and lose my vacation investment, too?
Unfortunately, for the majority of travelers, the answer is yes. If you have to cancel or postpone your vacation, you will probably lose some, if not all, of the money you have pre-paid. You may be able to reschedule the vacation, but will you have the money to pay for it?
Without travel insurance, could it cost me extra money if I'm forced to come home early?
Yes! It will probably cost you extra to return home. You may pay a premium for last-minute airline tickets or exchange fees for existing tickets. You also won't get any money back for the unused portion of your trip. Many times, the cost of interrupting your trip can exceed the actual trip cost.
Should I be concerned about medical insurance when I'm away from home?
Definitely. Your medical coverage may be limited away from home, or you may not be covered at all. Therefore, it's wise to check on your medical coverage before you travel. When your trip is covered by CSA, the 24 hr emergency hotline will direct you to the appropriate medical facility in your area.
Travel insurance from CSA Travel Protection gives you unparalleled coverage, benefits and assistance services that helps to protect your vacation investment. So you'll have the peace of mind that if something unexpected comes up before you travel and through the day you get back home, you're covered!
Below are true stories from actual CSA customers. Take a minute and read about what could have happened to their vacation investment without travel accident insurance.
Hurricane evacuation disrupts a family vacation
A family vacationing on North Carolina's Outer Banks was forced to evacuate due to Hurricane Charley in 2004. CSA trip insurance reimbursed them for the cost of hotel, meals and other expenses related to evacuating the area and returning home.
A broken leg before the ski trip
Tom planned a ski trip to Aspen several months in advance. Three weeks before his Aspen trip, he broke his leg at a local ski area. If not for CSA travel accident insurance, he would have lost his entire trip investment.
An ear infection cancels a cruise!
A client's 3-year-old daughter developed an ear infection two days before the vacation was to begin. The client had to cancel the trip, but they were in a 100% penalty period with the cruise line, and stood to lose their money. Their entire claim was paid.
Their house was flooded, their trip went down the drain
Mr. and Mrs. J. live in the Midwest, and their home sustained massive damage due to the 1994 floods. They cancelled their trip in order to take care of the damage to their house. Their entire claim was covered. (Similarly, CSA has also had clients who had to cancel due to damage from earthquakes, fires and hurricanes.)
Terrorist attacks stop a family's vacation
A family was due to travel to Israel and Egypt. Ten days before their departure, there was a terrorist bombing in Tel Aviv, which was on their itinerary. The family, understandably concerned about their safety, cancelled the Tel Aviv segment of their trip. Their entire claim was covered.
A critically ill relative brings a family home early from their vacation
On the second day of their 14-day trip in Europe, Mr. and Mrs. C. and their children received an emergency message that Mr. C.'s mother was critically ill. The family contacted the 24-Hour Emergency Hotline for assistance in making return travel arrangements. CSA's Designated Service Provider, On Call International, assisted them in purchasing air tickets to return home. (Their original tickets were highly restrictive and the dates could not be changed.) Because they missed most of their trip, CSA's exclusive 150% Trip Interruption benefit paid the extra airfare, plus the value of the unused trip.
An emergency medical flight from Alaska to Seattle
A couple from Seattle was on an Alaskan cruise when one of them developed a serious medical condition that required emergency transportation to the nearest land-based hospital. CSA's Designated Service Provider, On Call International, determined that the nearest hospital was inadequate for the patient and flew him to a hospital in Seattle. CSA paid for the cost of the evacuation. CSA also paid all related expenses incurred for getting the client to the nearest adequate medical facility and then transporting him to a hospital near his home, along with the unused segment of the client's trip.
Here are testimonials from a few of our many satisfied travel insurance customers.
I just want to thank you for your consideration and all that you did to help. We were without power—because of the hurricane—from Friday 10:30 p.m. until Monday afternoon. And when the letter arrived from CSA, it was like a ray of sunshine…believe me. So again I just wanted to say thank you and for sure I will recommend CSA to my travel agent so she can pass on the good news that CSA really does strive to please the customer.
– B.K., Port Orange, FL
Received your settlement check. THANK YOU SO MUCH; it came just when I needed it. Your quick response adds to the joy of my New Zealand trip, for I have never put in an insurance claim before.
-A.O. Nehalem, OR
Just wanted to drop you a line letting you know that upon my arrival home from work yesterday, I was greeted with the two checks that you explained would be coming. I just wanted to extend my appreciation to you and CSA and all others involved who processed this claim smoothly without delay.
I, along with my two boys, am very grateful, as this is now another tough thing that is behind us.
-L.G. Howell, NJ
I was on a three-night cruise with some friends over Super Bowl weekend and had a medical emergency that required a $313 visit to the ship's doctor.
I had purchased a CSA Travel Protection plan for the trip and submitted everything when I got home. The check arrived yesterday. It really was a no-fuss procedure and I had the money almost four weeks to the day after getting home. Actually, it could have been faster than that—I waited around for about two weeks for my credit card statement to submit for the proof of purchase. It was only later that I remembered I could have printed my account info off the Web right away. Duh!
Anyway, I was real happy with the way everything went. Thanks to everyone at the claims department.
-D.L. Santa Barbara, CA
I received your letter and check last week. My past experiences with an insurance carrier did not prepare me for your response. So I want to tell you how impressed I am with the efficiency, care and integrity with which you have handled my case. Rest assured that I will continue to use your company exclusively in the future.
Thank you Ms. Hatcher.
-R.M. Belvedere, CA
Just a note to say thank you for responding so quickly with our claim. I would surely recommend your company to my friends and family.
-J.M. Melbourne, FL
CSA, thank you for your honesty + integrity in the disposition of my claim. I will use CSA in the future and refer my friends and business associates also.
-M.K. Lincoln Park, MI
We had to make two claims on this policy, which covered our spring trip to Sweden and Scotland. This is our first experience with CSA and also with making a travel insurance claim. This service we received was outstanding. Our calls were handled with courtesy, efficiency and intelligence. In one call, at a time when we were feeling sad because two members of our party could not make the trip, the CSA representative offered sympathy and kindness above and beyond the business need. It was much appreciated by us.
We also received prompt and full payment of our claim. Your company is everything it claimed to be. We will use you again and recommend you to our friends.
-D.P. Columbia, MD
Again I want to thank you for your excellent service. I have recommended you many times to friends with whom we travel. It is always so disappointing to have to cancel a trip. We all have horror stories about trying to collect on travel insurance, so dealing with your agency has been a wonderful experience.
-S.L. Pasadena, CA
This is a letter of gratitude to you and your company for the extremely prompt and efficient handling our claim. We submitted the claim on May 8, we received a check from you June 16. Thank You.
-B.W. Pacific Palisades, CA