The Bahamas
With over 700 islands and 2,400 cays, the Islands of The Bahamas offer an overwhelming variety of historical, cultural, and natural attractions. Although the size of The Bahamas is traditionally estimated by its land mass (about 5,400 square miles, including many tiny, uninhabited rocks and isles), these islands extend over a marine territory of about 100,000 square miles–almost twice the size of Spain and substantially larger than Great Britain. This marine territory is as important as the land mass itself, for while the land provides a place to live, the sea is a place to play and explore.
Most people come to The Bahamas for its phenomenally clear waters and its abundant and varied marine life. In fact, almost 5% of the world's coral reefs are located here, an amount surpassing even Australia's Great Barrier Reef.  

In addition to the unparalleled diversity of its marine life, the islands are rich in terrestrial flora and fauna. Because The Bahamas is an island nation, there are only two indigenous mammals– the raccoon and the hutia, an endearing sort of tropical guinea-pig. Larger mammals introduced during colonization, such as wild donkeys, wild boars, and horses, do roam in less populous areas–and of course, whales and dolphins frequent the waters. Reptiles and amphibians such as the endangered Bahamian rock iguana, the Cat Island terrapin, and the Hawksbill turtle share the cays and islands of The Bahamas with the largest nesting colony of West Indian flamingoes in the world, as well as nesting colonies of the Bahama parrot.
Unique among New World parrots, the Abaco parrot nests in natural limestone cavities on the ground. This nesting habit makes the parrot more vulnerable to predators, especially the wild cats of the Abaco forests.   While the islands of The Bahamas are not lush, their flora is distinctive, colorful, and varied.
Among the Bahamian plants are the bull vine, whose bright red blooms attract butterflies, the wild grape, several kinds of fig, and the boldly colored and shaped bromeliad.
There are also wild tamarind and pigeon plum trees, both of which produce edible fruit, and the ubiquitous casuarina pine. The various national parks encompass a wide range of environments–from hardwood forests and whiteland coppices to sand dunes and eerie, impenetrable mangrove flats.   Perhaps because there's so much to conserve, Bahamians have a strong tradition of appreciating and protecting their environs. As a result, the 12 government-funded national parks of The Bahamas are exceptional. They exist on several islands, encompassing every kind of habitat that the islands possess and ranging in size from the tiny gem of Lucayan National Park to the 20,000-acre National Park on Abaco.
Boating and Cruising
There's plenty of excellent pleasure cruising to be done in The Bahamas; the islands offer gorgeous waters and a seemingly endless array of uninhabited cays inaccessible by any other means (save swimming . . .). Even around the most popular islands you can drop anchor at some remote spot and enjoy sunny, silent swimming and snorkeling far from the shore. If you want someone else to do the sailing for you, cruise in a glassbottom boat during the day, dance under the stars on a dinner cruise, or charter a crewed boat for a couple of days of quiet and careless escape.
Competitive sailing, like competitive fishing, finds an ideal location in The Bahamas. Whether you're just watching or want to participate, a regatta is a beautiful and thrilling way to pass the day. Each major island holds its own regatta, usually in late summer; the best are to be found on Exuma, Long Island, Nassau/Paradise Island, and Freeport/Lucaya. The regattas tend to spawn parties, barbecues, and other congenial, inclusive gatherings–hang around a regatta long enough and you'll find yourself with ten new playmates by sundown.
The Bahamas are also the site of quite a few noncompetitive sailing events, which bring boat enthusiasts and the just-curious together to bask in the warmth of camaraderie.
Sailing/Cruising Entry Fees
Cost of a cruise permit is $10 and it is good for one year. After two years the boat must leave The Bahamas or be subject to duty and stamp taxes.
Charges may include a nominal "transportation" fee if the Customs and Immigration officer has to drive to your location. If you arrive on a holiday, weekend or any time other than between 9 am and 5 pm on weekdays, you will be charged overtime. The amount may vary depending on the location, time of day and rank of inspecting officer. Overtime charges may be incurred after normal hours of operation.
The 294,982 people who live in The Bahamas are predominantly of West African descent. Their ancestors were slaves brought to the islands to work the cotton plantations until 1834, when Britain abolished slavery in all its territories. Most white residents of are descendants of the first English settlers, who emigrated from Bermuda in 1647 to gain religious freedom. Some are also related to the Loyalists who fled the southern United States during the American Revolution and built enormous plantations here.
After the abolition of slavery, life in the islands changed drastically. The plantations were dissolved, and both blacks and whites turned to the bountiful sea (sponging and fishing) or tried to farm. The lack of fertile cropland prompted the islanders to become a nation of seafarers, and Bahamians used these skills to great advantage during the days of shipwrecking, gun running, and Prohibition.
Bahamians take great pride in their past, especially their names, which are indicative of a rich cultural legacy. There are many common names like the Gibsons, reputedly from Scotland; the Alburys, Malones and Russells, said to be Irish Loyalists; and the Eleuthera Bethels, who say they came with those zealous adventurers years ago. It has been said that the Bethels once spelled their name with two 'l's', but removed one because of their religious convictions. The Black Bahamians' roots go back just as far, as evidenced by the many who took the name "Rolle," after Lord Rolle, a wealthy and much-loved planter in Exuma who, after emancipation, gave his land to his former slaves.
Religion is an integral part of Bahamian life. Even the tiniest village has a church, sometimes two. The people's religious ardor and high regard for education are evidence of their Puritan heritage, derived from the Eleutheran Adventurers. Music is also in the very bones of the people. African rhythms, Caribbean Calypso, English folk songs and the uniquely Bahamian Goombay beat echo in the air. The fast-tempoed "goom-bahhh" resonating from the drums can be traced back to the days of slavery and is used both for story-telling and dancing.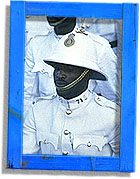 The legal and political institutions of the country reflect its Anglo-Saxon heritage. It has a bicameral parliamentary government composed of a Senate and a House of Assembly, a Prime Minister, an Attorney General, and an independent Judiciary, including a Supreme Court and a Court of Appeals. The Changing of the Guard ceremony, held every two weeks, continues the British tradition, and Bahamian policeman pride themselves on their starched uniforms. Many will not put on their shirts until they are on duty to preserve their formal appearance, which is quite impressive.
The laid-back attitude of Bahamians is often misunderstood by those unaware that it evolves from years of a good life in a land where nature provides every need. There is always time to worry about the bad things tomorrow. Bahamians are humorous, helpful people who love to celebrate. Don't get too angry if you want to go shopping and everything is closed. It's probably the Queen's Birthday or some other holiday. Weddings and funerals in The Bahamas are especially important social events. People begin celebrating a marriage weeks before the official ceremony begins, and the passing of loved ones is commemorated by parties long after they are gone.
To find out more about Bahamian culture, be sure to contact People to People at (242)326-5371, (242)328-7810, (242)326-9772. This year-round Ministry of Tourism programme gives visitors a genuine and informal view of Bahamian hospitality and culture as you might see it when visiting a friend.
The need to know facts
Entry Requirements
US visitors staying for eight months or less need a return ticket plus a passport (passports expired up to five years may also be used), or a certified birth certificate with an official photo identification; naturalized citizens require naturalization papers and photo identification; permanent residents (green card holders) require their green card and a valid passport from their place of birth. Canadian visitors not staying more than three weeks need the same identification as those from the US All others need a valid passport. Some visitors may also require a visa.
Bank Hours
In Nassau, Paradise Island and Freeport/Lucaya, banks are opened from 9:30 a.m. to 3:00 p.m., Monday through Thursday, and 9:30 a.m. to 5:00 p.m. on Friday. Hours vary throughout the Out Islands.
Climate
The trade winds that blow almost continually throughout The Bahamas give the islands a warm agreeable climate which varies little year round. The most refreshing time is between September through May when the temperature averages 70-75F degrees. The rest of the year is a bit warmer with temperatures between 80-85F degrees.
Clothing
Casual summer wear can be worn during the day any time of the year; but be sure to bring a jacket or sweater for cooler evenings from December to February. Most hotels/restaurants/casinos require jackets for men in the evening, especially in cosmopolitan Nassau. Though walking the streets in swim trunks in mid-January might sound irresistible, beach clothing is inappropriate on the streets of downtown Nassau, in churches, restaurants and casinos. On the more laid-back Out Islands, dress-codes are much more flexible.
Currency
The legal tender is the Bahamian dollar (B$1), which is equivalent in value to the US dollar. Both US and Bahamian dollars are accepted interchangeably throughout the islands.
Customs Regulations & Taxes
Upon entering The Bahamas, everyone must fill out and sign an Immigration form, keeping a portion of the card in hand until departing. An oral baggage declaration is required. Each adult visitor is allowed to bring 50 cigars, 200 cigarettes or one pound of tobacco, one quart of spirits, and a variety of personal effects (personal radio headsets, bicycle, two still cameras, etc.). Purchases up to a value of one hundred dollars are permitted by all arriving passengers.
When departing, all visitors are required to pay a $15.00 departure tax ($18.00 from Grand Bahama); children six years and under are exempt. Departures to the US must go through US Customs pre-clearance. US visitors may take home US$600 worth of duty-free merchandise. The next $l,000 is taxed at 10%. Gifts valued up to $50 may be mailed home duty-free. One litre of wine, liqueur or liquor and five cartons of cigarettes may be taken duty-free.
Driving
British rules apply, so please drive on the left and watch those roundabouts! Visitors may use their home license for up to three months and may also apply for an international driver's license. Pedestrians should remember to look right before crossing streets.
Electricity
Electricity is normally 120 volts AC. American appliances are fully compatible.
Fishing and Diving
To protect the marine environment, spear fishing using scuba gear and possession of spearguns are illegal in The Bahamas. Cruising boats must clear customs at the nearest port of entry before beginning any diving or fishing activities. A permit is required for visiting vessels to engage in sports fishing at a cost of $20 per trip or $150 per year for vessels on which not more than six reels will be used. (Refer to the Yachtsman's Guide to the Bahamas 1995.)
Language
The official language of The Bahamas is English, more British than American, and generally intertwined with a special Bahamian dialect. Some Indian words like cassava and guava have been retained in the language.
Shopping
Effective January 1, 1992, the Government of the Commonwealth of The Bahamas abolished all import duties on 11 categories of items. Perfumes and Fragrances, Crystal, Leather Goods, Jewelry, Fine Linens and Tablecloths, Watches and Clocks, Photographic Equipment, China, Binoculars, and Telescopes are all duty free. Savings on these items are between 25% – 50% below US prices. It's easy to see why people often return from The Bahamas with more than nice tans.
The best shopping is concentrated in Nassau, Cable Beach, Paradise Island and Freeport/Lucaya; boutiques and gift shops are also found in most major resorts. Everything from duty-free products to local arts and crafts, wood, straw, shell and clothing creations are readily available.
Spring Break Season
Spring break season runs February 28 – April 10. This is important information, whether you're aiming to avoid the spring break season altogether or intent upon landing right in the middle of this month-long youthfest. Beach parties, sports meets, and musical entertainment lead off the packed Spring Break calendar. The front desk of your Bahamas hotel will surely be updated on the most detailed spring break info–or telephone the Ministry of Tourism at (242)322-7500.
Time
Eastern Standard Time is used on all islands. April to October is Eastern Daylight Time, in conjunction with US summer hours.
Tipping
Tip according to quality of service. Bellboys and porters usually receive $1 per bag, while most other servers (waiters, taxis, etc.) receive 15%. Some establishments include the gratuity in their bills.